Dear Neighbors,
The Board of the Dunwoody North Civic Association realize this is an extremely trying time for all of us and hope all of you in our community are OK. This page will be updated as we obtain additional pertinent information.
Introduction
During this current health crisis due to the very infectious Covid-19, we hope everyone will continue to observe social distancing, and be vigilant about hand-washing and other cleanliness measures.
Do not be complacent, or think yourselves invulnerable because:
you are vaccinated against flu and Pneumonia, (in fact it may be the reverse)
you are young and healthy (60% of the new cases are under 59)
you think this is all hype (this novel virus is far more contagious and fatal than flu)
Keep in mind, there is currently no cure and no vaccine, so be careful. We need to "flatten the curve", i.e. reduce the number of people that come in contact with someone who is infected. People can be asymptomatic and still infect others. This infection is shared via airborne and direct contact. Covid-19 also remains viable on various surfaces for hours or days but exact measurements are still unclear.
Do not worry about being overly cautious. Consider the alternative. We are all in this together.
CDC Recommends Face Coverings

After much consideration, the CDC now "recommends wearing cloth face coverings in public settings where other social distancing measures are difficult to maintain (e.g., grocery stores and pharmacies) especially in areas of significant community-based transmission." This is because of significant evidence that indicates the coronavirus can be spread by those that do not show any symptoms. The masks are recommended to help reduce the chances that someone can unknowingly spread the virus by catching droplets as well as to protect the wearer from contracting the virus.
All other preventative measures still remain in effect, especially the need to stay home and when you need to go out, to maintain the minimum 6-feet of social distancing.
The CDC is not recommending the use of surgical masks or N-95 respirators as these are still in short supply and needed by those workers that are on the front line of the pandemic. For more, visit the CDC here: https://www.cdc.gov/coronavirus/2019-ncov/prevent-getting-sick/cloth-face-cover.html
GA Statewide Shelter-In_Place Order


On April 2nd, Georgia Governor Brian P. Kemp issued a shelter-in-place order for the entire state of Georgia. The order will be effective beginning Friday, April 3rd, at 6:00 PM and is currently set to expire Monday, April 13th, at 11:59 PM however it may be extended. The Georgia government site has the details including the official order: https://gov.georgia.gov/press-releases/2020-04-02/governor-kemp-issues-shelter-place-order.
There are many other sites that provide more easily digested details on how it may effect you personally but generally it means everyone should be staying home unless there is a specific need to not do so, such as for obtaining food or medical attention.
The Statewide order overrides all other previous shelter-in-place orders issued by local municipalities such as Dunwoody and there is the possibility that anyone disobeying the order could be charged with a misdemeanor. However the order also states that "Officials enforcing this Order should take reasonable steps to provide notice prior to issuing a citation or making an arrest."
IRS Taxes and Economic Impact Payments

The IRS recently established a special web page focused on what is being done to help taxpayers, businesses and others affected by the coronavirus. https://www.irs.gov/coronavirus discusses what you need to know about the many different IRS and government financial efforts including the $1,200/adult Economic Impact Payments that are part of DC's massive financial package.
However, because of how their previous taxes were filed, some people would normally receive a paper check but check payments could take months to process. For those that do not receive electronic payments from the IRS for tax refunds and the like, this page 'will' have a way for you to give the IRS your bank info to allow faster processing of any relief payments that may be due to you. As of Wednesday April 1, that capability was not yet available but the IRS page will be updated regularly so check back.
FCC COVID-19 Scams Page

The FCC has learned of a number of ways fraudsters are seeking to take advantage of consumers, from fake testing kits and unproven cures to government impostor scams and work from home schemes. These scams prey on our most vulnerable community members and can result in financial loss or worse.
The FCC has developed a COVID-19 scams page (https://www.fcc.gov/covid-scams) that includes tips to assist consumers in protecting themselves and their loved ones. The guide includes samples of hoax phone audio and text messages that have circulated. The FCC will continue to update the page as they learn about new COVID-19 scams.
We must work together to protect everyone from these pernicious scams so remember your critical thinking. Do not forward or pay attention to anything you can not personally verify. If you have even the slightest doubt, verify the inforamation via unaffiliated sources and/or contact the source directly using contact information obtained elsewhere. For example, if you get a message from your bank, call them via a number you already use or get from their website and look at all web addresses to confirm they are real.
Dekalb Shelter-In-Place Order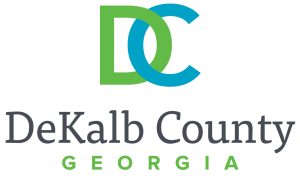 DECATUR, Ga. – March 27, DeKalb County CEO Michael Thurmond updated the county's state of emergency with a shelter-in-place order for DeKalb County in response to the COVID-19 pandemic crisis.
The order is effective Saturday, March 28, 2020, at 9 p.m. until further notice.
The shelter in place applies to all individuals living in DeKalb County. According to the order, "individuals are permitted to leave their places of residence only to provide or receive certain essential services or engage in certain essential activities and work for essential businesses and essential governmental functions."

"We are trying to save lives from the serious COVID-19 public health threat," CEO Thurmond said.
What this means is that until further notice, all public and private gatherings outside your home are prohibited and residents are instructed to leave their homes as little as possible. Exempted activities include medical care, going to work for essential businesses and "obtaining necessary services and supplies" - things like grocery stores, pharmacies, banks, and a number of other retailers.
For the full executive order on the DeKalb County website in a new tab, click here:
https://www.dekalbcountyga.gov/news/dekalb-ceo-thurmond-issues-shelter-place-executive-order
Dunwoody Shelter In Place Order

Dunwoody, GA – March 28, 2020 – Residents in the City of Dunwoody will be under a shelter-in-place order starting at midnight tonight. The order will be in effect through April 15, or until it is rescinded or amended by the Dunwoody City Council.
"This is our strongest statement yet in demonstrating how important it is that we work together to help limit the spread of COVID-19," said Dunwoody Mayor Lynn Deutsch. "The vast majority of our residents and businesses are already doing exactly what's in this order to protect their families and neighbors, but we want to be clearer about what's expected."
This amendment to the city's COVID-19 emergency ordinance includes exceptions. For additional information visit:
https://www.dunwoodyga.gov/index.php?section=government_news_room&prrid=464
COVID-19 Hotline

The State of Georgia has a new COVID-19 hotline. If you believe that you are experiencing symptoms of COVID-19 or have been exposed, please contact your doctor or an urgent care clinic by phone. Please do not show up unannounced at any emergency room or health care facility.
For more information and help understanding coronavirus and the response in Georgia, the Georgia COVID-19 tollfree hotline number is: (844) 442-2681.
What You Can Do To Help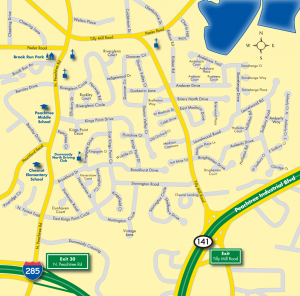 During this health crisis, we have a lot of adults & children home. Although it is important to maintain social distancing, if you are out walking, please wave a greeting to your neighbors. When driving through the neighborhoods, be extra alert as there are innumerable children of all ages out burning off energy. It can be difficult to anticipate what they might do so go slow. If you have an elderly neighbor, please reach out to them with a call to see if they are OK. They will appreciate it and your call can be especially opportune if you make it before going for groceries.
Help From the DNCA

If you or anyone you know have any needs for which DNCA might help, please email us at: Help@DunwoodyNorth.org.
Your email will be distributed to multiple board members and we will do our best to assist.
The DNCA has just finished a new neighborhood directory but the crisis has delayed distribution. You can also use the above email to find out if we have contact information for a particular neighbor.
Red Flags
A neighborhood in New York has instituted a 'Help Needed' system where those that need assistance put a red piece of paper in a window, on a post or mailbox that can be easily seen from the street. Many of our homes are setback enough that this may not work for everyone but it is another way of letting your neighbors know you need help.
Facebook

For those of you on Facebook, there is a Dunwoody North Neighborhood Facebook page. It is a fantastic way to connect with neighbors and can be a great resource for many things you might need like a plumber, etc.
However, please remember your critical thinking and do not forward or pay attention to stories with no verifiable attributions. Any story worth your time will have specific source references in the text to organizations like the WHO (World Health Organization) various specific CDC centers, specific named doctors, institutions, etc. In a properly referenced story, generic references like "Japanese experts say" will always relate back to specific experts that are named elsewhere in the story and it should be easy, via links and internet search to find multiple unaffiliated sources that corroborate both the source and the facts. If you have even the slightest doubt, first check the information via multiple respected sources.
And any story that ends with something like "please forward" should be questioned.
'Everything Will Be OK' Yard Signs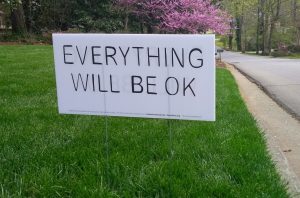 Create Dunwoody is selling the 'Everything Will Be OK' yard signs that you may have seen in a neighbor's yard. The profits support the Spruill Center for the Arts, local artists and teachers who have been financially impacted by coronavirus. Signs can be ordered online and they will be delivered anywhere in Dunwoody. Here is the link. https://createdunwoody.org/
DNCA Scholarship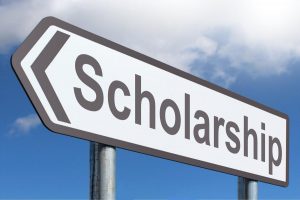 The next months or longer will be a test for everyone's finances. While it will not change the world, for those of you who have seniors graduating in 2020, your DNCA has the Scholarship essay where the winner earns a $1,000.00 scholarship. The theme is "What is the contribution you want to make".
For all the details, go here.
DNCA Board Members Needed

Lastly, the Dunwoody North Civic Association still needs a President/Co-Presidents, Vice President and a Member at Large. Please email us at: Help@DunwoodyNorth.org if you want to join us or for more information.
Stay safe, stay healthy and be kind.
DNCA Board Members – DunwoodyNorth.org
Kathy Adams Carter
Pat Cloud
Lyn Coltman
Bob Durkis
Jennifer Elkins
Jack Hamilton
Judy Millner-Hofer
Julie Horowitz
Jay Kapp
Ellen Mauldin
Corlette Muery
Daine Pearson
Gerri Penn

Julie Horowitz
Jay Kapp
Ellen Mauldin
Corlette Muery
Daine Pearson
Gerri Penn