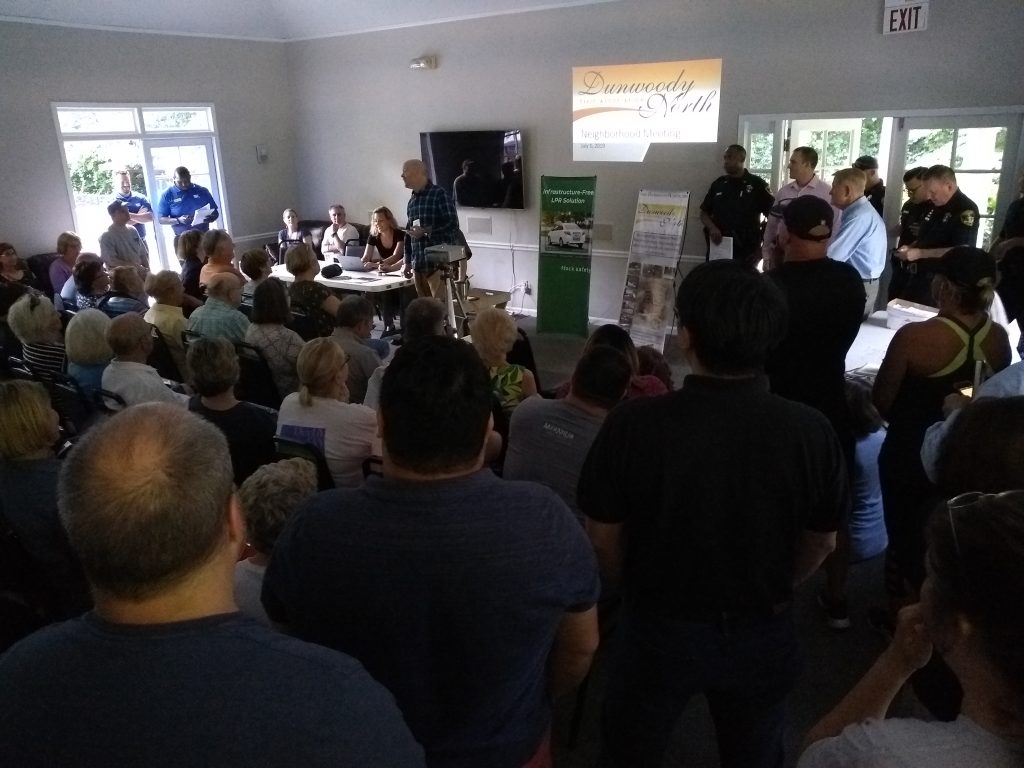 The Dunwoody North Civic Association held a meeting Monday night July 1, 2019, at the DNDC Clubhouse to voice concerns about the recent series of crimes, crime prevention and to learn about procedures and products to improve the safety of our neighbors.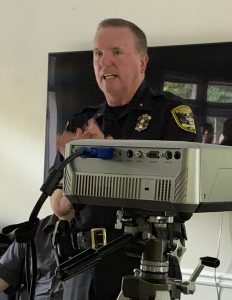 In summary for those of you who were unable to attend the July 1 meeting, the Chief of Police, Billy Grogan, five of his officers, and our Mayor Dennis Shortal each made short presentations as to what they were doing to combat the escalating crimes that have recently plagued our area. In addition, four members of the city council - John Heneghan (a DN resident), Lynn Deutsch, Tom Lambert, and Jim Ritchie provided additional technical information. Approximately 120 residents were in attendance.
To date, there has been one arrest in Roswell. That person is believed to possibly be involved with the Brookhurst burglary. The case has not yet been adjudicated. None of the other burglary victims have been contacted by the police with updates.
There were five invited panelists: Mathew Podowitz (a neighborhood resident and volunteer speaker) from "Refuse to be a Victim", Megan Pagano from Flock Safety, a new company that provides sophisticated security surveillance systems, Ben Dubuisson and Jamal McClendon from the Geek Squad (Best Buy-Perimeter), sellers of various brands of surveillance equipment and potential installers, and Kirk Viator, (another neighborhood resident) a commercial locksmith, from Atlanta Metro Security. He also recommended "Unlock-it Locksmith and Security Company" that manufactures doorjamb reinforcements.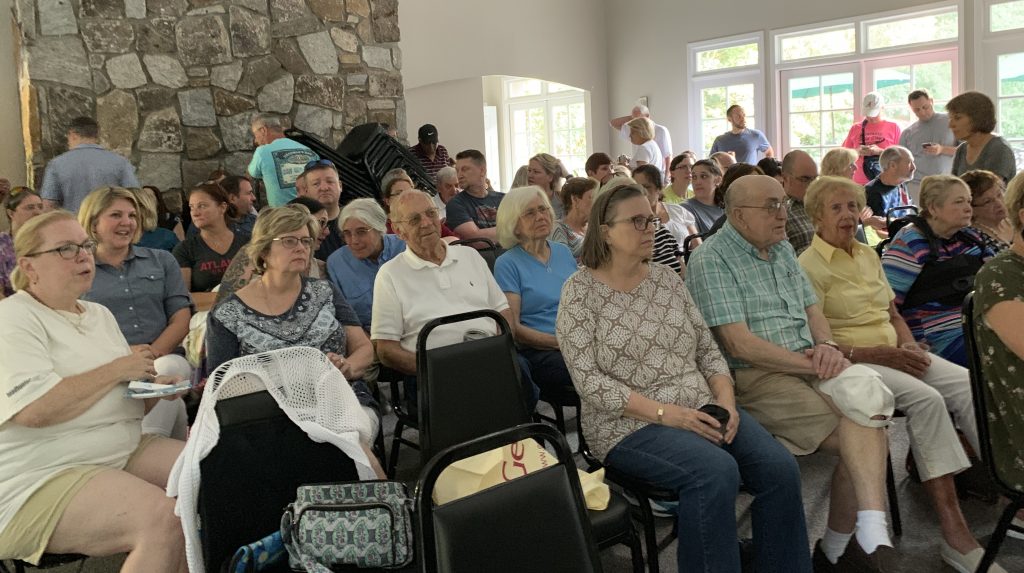 As much as the Flock Security Camera systems offer, their prohibitive expense for a volunteer association with limited financial resources, (10 entrances @ $2,000 ea./840 households =$25/household per year) was conceded to be unrealistic. Most people felt that they would engage their own security measures and obtain their own surveillance systems. The recent news is that apparently three City of Dunwoody license plate reading cameras are slated to be installed on Tilly Mill, N. Peachtree Rd., and Shallowford Rd. by the Dunwoody Police Department.
The basic take-away from the meeting was that PREVENTION IS MORE EFFECTIVE THAN RECOVERY. The police advised everyone to be nosy neighbors, i.e. See Something Say Something. Don't leave any valuables visible in your car or overnight. Always lock your vehicle and your house. All these burglaries occurred midday during the week. Also, if someone knocks on your door, don't ignore the knock, but don't open the door. Let them know you are inside. This is a frequent ploy by criminals to determine if there is someone home.
If you decide to get your own home security system, please keep in mind that Best Buy sent in a team to provide information and answer questions, as did Flock Security and Atlanta Metro Security.
Contact Information:
Mathew Podowitz - Refuse to Be a Victim:
mpodowitz@gmail.com, 678-360-3919
Megan Pagano - Flock Safety:
megan@flocksafety.com, 770-618-9989, www.flocksafety.com
Ben Dubuisson (and Jamal McClendon) - Best Buy-Perimeter:
Benjamin.Dubuisson@bestbuy.com, 770-391-4749
Kirk Viator:
office: 678-377-0066, AtlantaMetroSecurity.com
Unlock It Locksmith & Security:
yoursecurity@unlockitlocksmith.com, 770-441-0466, www.unlockitlocksmith.com
1180 Grimes Bridge Rd Ste 200, Roswell, GA 30075
Meeting Details:
Since the July 1 meeting there was another break-in on July 4 between 12:00 - 4:00 pm on Stonehenge. Fortunately, nothing was taken, possibly because the would-be burglars might have been scared off by the timely arrival of the neighbors. And on the morning of July 8th, another resident discovered that her "locked" car had been ransacked in her driveway on E. Madison Drive.

The takeaways from the meeting can be summarized as follows:
Part I: Police, Mayor and City Council portion of the meeting (1 hour)
"See Something, Say Something". If you see ANYTHING questionable call 911. You won't be bothering the police. If you are a crime victim, after you call 911, call me Judy Hofer - Neighborhood Watch Chair: (404) 402-9354.
Our recent house break-ins have all been between the hours of 11-3pm weekdays, with forced entry. Stolen items were small and portable: phones, laptops, guns, jewelry, silver flatware and a portable safe.
The vehicle seen by a neighbor at the scene of the Brookhurst robbery was identified as a Chevy Tahoe 2003-2006 goldish tone. No plates.
Commercial burglaries were distinguished from residential burglaries as occurring at night vs. daytime. Also, they tend to be different types of crooks.
Residential burglars will frequently knock on the door to determine if anyone is home. The police advise DO NOT IGNORE THE KNOCK. DON'T OPEN THE DOOR, BUT LET THEM KNOW THAT YOU'RE IN THE HOUSE. If you do open the door and they claim to be selling something, inform them that they are required to have a Dunwoody City permit to do so. If they seem questionable call the police and let them handle it. Take note of any vehicle for description.
Regarding car break-ins (this is the most common crime in Dunwoody): LOCK, TAKE, HIDE. Lock your car (do it manually from inside your car before exiting). Don't leave anything visible in your car because you never know what someone might want and break into your car to get. Take all your stuff with you. If you plan to hide things in your trunk, don't do it at your destination. You never know who is watching. People going to swim clubs or exercise places: carry in your bag. No bag ladies? Watchers will guess it's probably in the trunk. If you see suspicious vehicles in the parking lot, try to surreptitiously get the plate number and call 911. In general, BE A NOSY NEIGHBOR.
Focus on Prevention. Record the serial numbers on your equipment, so that if anything is recovered, they may be able to return it to you using NCIC and GCIC which are national registries of serial numbers. This is especially important if the items are recovered in other jurisdictions. Also, License Plate recognition (LPR) technology, such as provided by Flock security, can aid in tracking vehicles of interest and "hot" tags from stolen vehicles entering your neighborhood.
Ring has a "Neighbors by Ring" app (which anyone can download) to which camera footage from any brand of surveillance camera can be uploaded and viewed by others.
Of the criminals arrested for crimes committed in Dunwoody, over 70% of them are from outside our city.
Part II: Invited Panelists: Each made a short presentation and then answered questions from the audience. (1 hour)
Mathew Podowitz (a DN resident who volunteers to speak on personal safety and crime prevention) talked about three levels of self-protection: deterrents, barriers to entry and responses
Deterrents: exterior lighting, motion detector lights, alarm systems and surveillance cameras
Physical Barriers: locked gates and fences, good door and window locks, portal reinforcements so door jambs can't be easily kicked in
Responses: Alarm monitoring, a safety escape plan and a designated "safe room" where family members know to go in an emergency
Megan Pagano (a Senior Rep from Flock Safety) talked about their success in eliminating non-violent crime.
They have an alliance with the FBI ("hot" tags) and have already installed several LPR (license plate reader) camera systems in the perimeter area and are working with the Dunwoody police.
They have over 500 customers in 32 states and growing, and have been instrumental in reducing crime for their customers in some areas, like Marietta, by 34%.
They have aided in many types of crime detection, such as, illegal dumping, aggravated assault, Amber Alerts, kidnapping, larceny, and Motor Vehicle theft.
Their camera system is a subscription service: $2,000/year/camera which includes standard installation, maintenance, and monitoring. These are solar-powered systems with a battery back-up (they can also be direct-wired if power is available). They are unidirectional and cover only about half of the road. The expense must be absorbed by the residents and will not be picked up by the City of Dunwoody. Megan has prepared a potential minimum and maximum coverage plan for our neighborhood. If you are interested in this report, contact Judy Hofer.
Daine and I got to see an online demonstration of the capability of their system. It is a searchable database which allows one to filter the footage, e.g. type and/or color of vehicle, some numbers on the plate, etc., allowing you to potentially find a specific vehicle without having to look at hours of footage. Contact Megan Pagano if you would like to see the system in action.
Residents can register their plate numbers for exclusion purposes, or they can opt out, but if they opt out and their car is stolen, there will be no record of their vehicles' movements.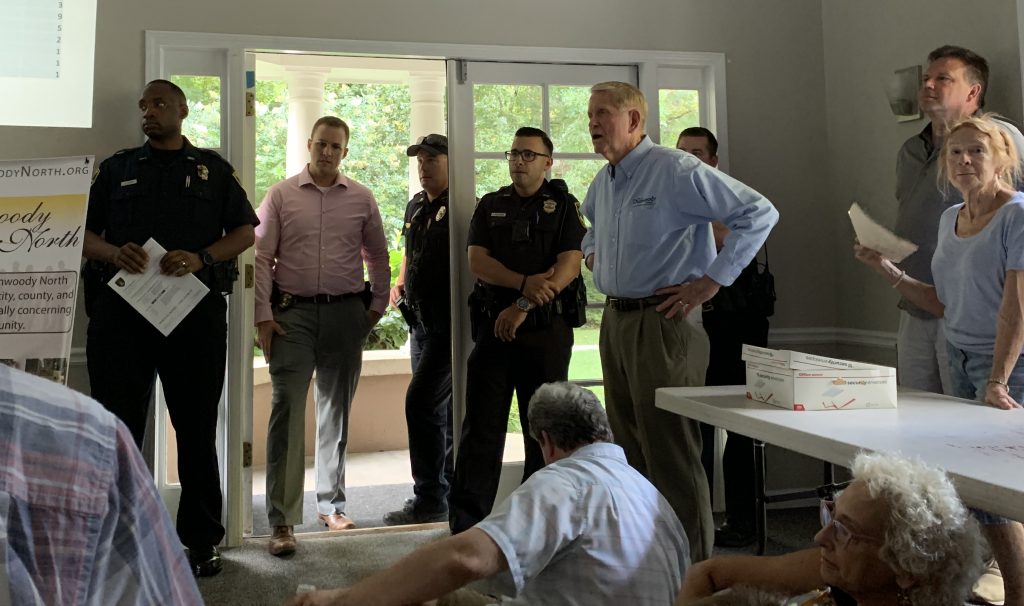 Ben Dubuisson & Jamal McClendon (Connected Home/Geek Squad from Best Buy-Perimeter) Best Buy carries several brands of surveillance systems which can be purchased and installed by the customer, or through their Geek Squad installation teams. These systems run over your home network and some provide the option of being either battery operated or hard wired. Each system is unique and offer their own subscriptions in competition with the traditional brands with more standard motion-based sensors, such as ADT & Brinks. Best Buy also offers In-Home Consultations, where a Best Buy consultant, free of charge/obligation can come to your home to work with you to assess your specific security needs along with adjacent products such as modems and routers. Routers and switches are the foundation of our smart homes and require enough bandwidth and signal strength for cameras to operate outside your home. "Mesh" WIFI systems provide larger homes over 2,000 sq. ft, the ability to easily blanket the entire home in coverage without the loss/drops one might experience with extenders. Please contact Ben Dubuisson (Benjamin.Dubuisson@bestbuy.com) of the Connected Home Department or Best Buy, Dunwoody if you have any questions in assessing your own security system. Do please mention their presence at our meeting.
Kirk Viator (commercial locksmith from Atlanta Metro Security) cautions that there are numerous unqualified locksmiths in the Atlanta area because the state does not require licensing, so beware. He also recommended another residential company (Unlockit) who manufactures and installs their own portal reinforcement systems for door frames. He answered several audience questions about bump keys which turn out to require a specially crafted key and are not that easy to use. He also said that smart locks can solve many problems, but can sometimes be bi-passed, sometimes fail, and once installed can make it more difficult for first responders to get in. High security locks are stronger, but are extremely expensive.
Thanks to all who participated.
Judy Millner-Hofer
Chair, Dunwoody North Neighborhood Watch Program
Dunwoody North Civic Association
NeighborhoodWatch@DunwoodyNorth.org
404-402-9354