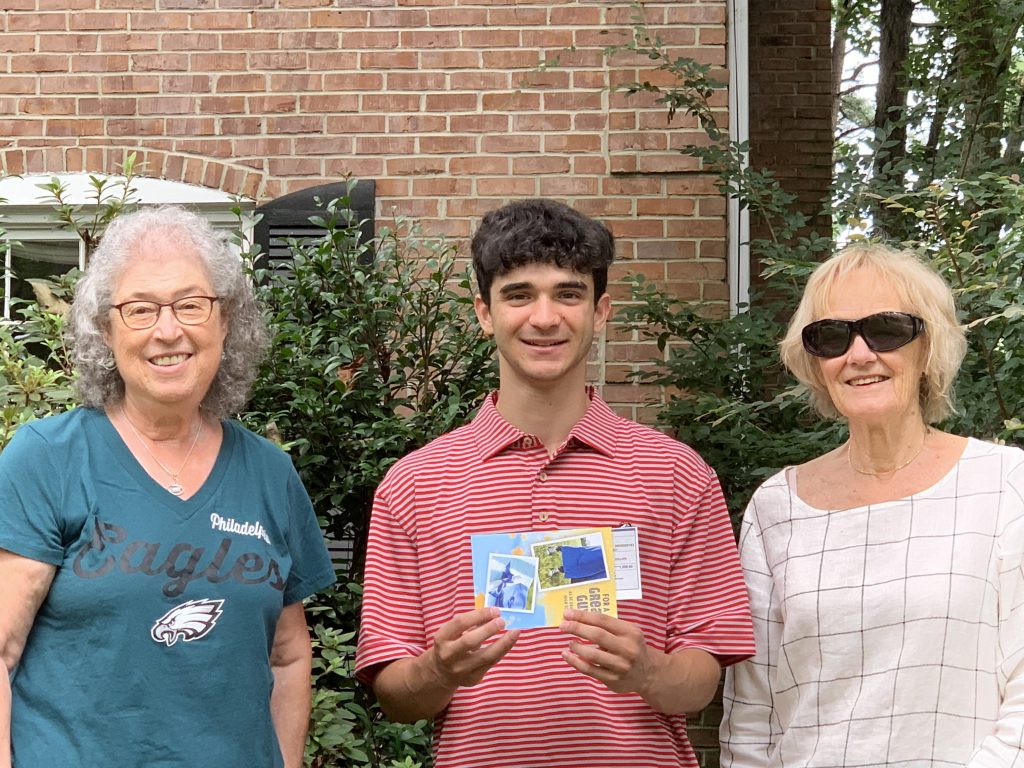 Congratulations to Will Solomon - winner of this year's $1,000 scholarship! He is a Dunwoody North resident heading to University of Georgia in the fall planning to study finance. Will is shown above with DNCA board members Gerri and Lyn who awarded Will the scholarship based on his essay below.
2020 - It's Effect On Me
I could hear loud cheers as the ball dropped, ending the year 2019 and marking the start of a new decade. As I looked around my house, I could see many smiling faces, friends and neighbors kissing and cheering to welcome the new year, full of hope and joy. I was surrounded by numerous friends and family members; 2020, my senior year, was going to be the best year of my life…
Flash forward to exactly one year later, and all I can hear is the loud crunch of my brother eating Doritos on the couch, staring intently at the TV as the ball drops to signify 2021. There was no kissing, no crowd, but there were five smiling faces which belonged to me and my family. We were all very glad to put 2020 behind us and hoped for a better future. As I sat on that couch, my eyes glued to the TV, I began to think back about the positives of 2020 and how I was able to adjust my life and experience personal growth because of COVID-19.
I think before COVID-19 took the United States by storm, I had a tendency to take many aspects of my life for granted. My friends were always just a short drive away. I could see my grandparents whenever I wanted to. I could attend Dunwoody swim team practice and even count on going to a few Hawks and Braves games throughout the year. All of these "normal" things were stripped away from me and the rest of the world instantly as the country shut down. I spent the rest of my school year online and finally saw a select few of my friends as summer break began. As I hung out with my friends, sitting outside my house with masks on, something clicked in my head to appreciate every interaction and opportunity I have because I never know what could happen in the future. My time spent during COVID-19 allowed me to learn how to solve problems. I think a great example of this newfound problem solving took place with a community service organization that I was Vice President of called Creating Connected Communities (CCC). At CCC, my role was to plan events for children around Atlanta who suffer from poverty, hunger, and other family issues. I have been involved with CCC since 8th grade, and we typically host large, carnival-like events for these kids. In addition, every December, we host a huge holiday party. Because we could not have large, in-person events in 2020, we needed a way to stay involved in our community. My team met often via Zoom, and we came up with "Summer Smile Bags." We collected supplies, and these bags were distributed safely around the Atlanta community. Each bag contained goods to help the kids including personal hygiene products, school supplies, and treats.
Overall, the year 2020 was terrible for the whole world. I truly believe, though, that I made it the best that I could for myself despite the situation that we were forced into.